This blog post started out as English paper piecing essentials, but truthfully, these are items I use frequently for both foundation AND English paper piecing!! If you are here for the foundation paper piecing essentials, they are here!! Perhaps you'll be inspired to pick up English paper piecing as well!
Everyone has a different EPP 'setup', and you have to find what works for you.  Some people use a plastic box, others use a pouch.  I use a fabric 'folder' with a zipper that opens the whole way, and can lay on my lap.
Numero Uno: you will want some sort of vessel/thing to hold your stuff.
My first 'kit' was a vintage metal box…too loud (I am an early riser, and the clinking of a lovely metal box did not go over too well with those trying to sleep in)…too big…too clunky.
My second was a hard sided pouch for a rotary cutter.  It wasn't bad….but it was a little too small.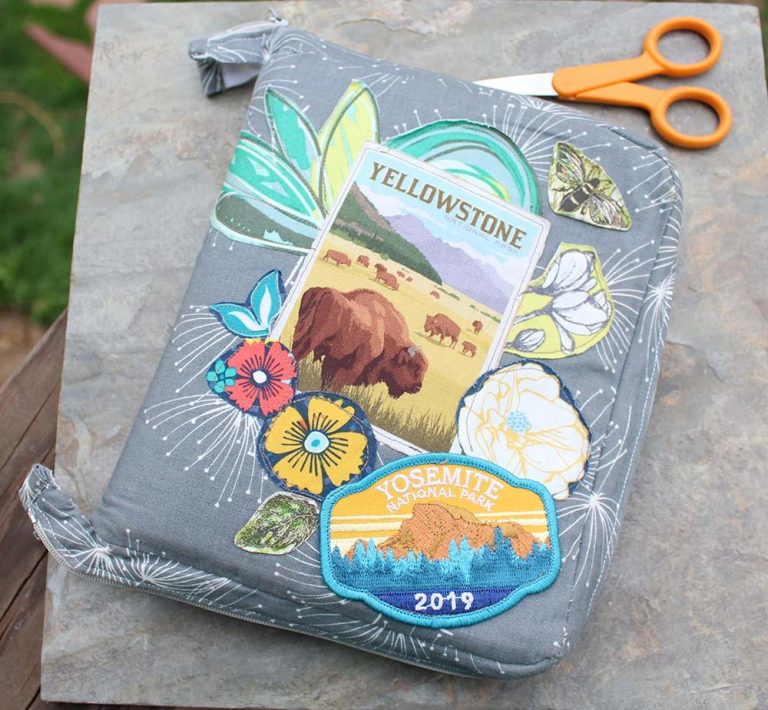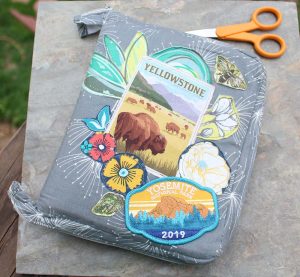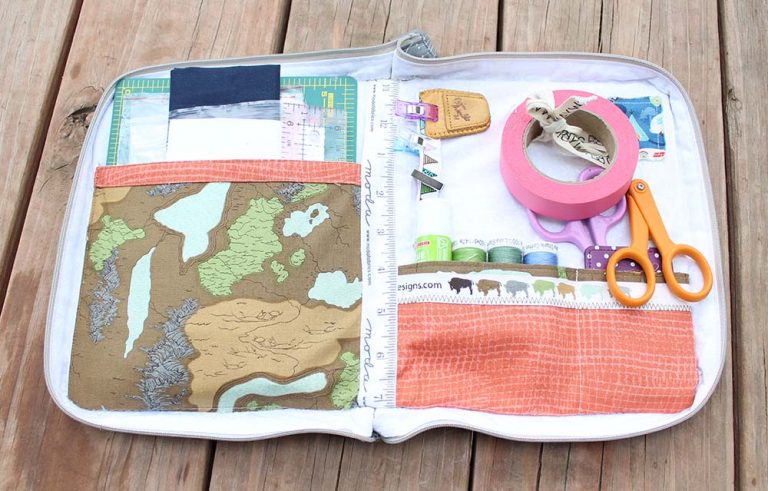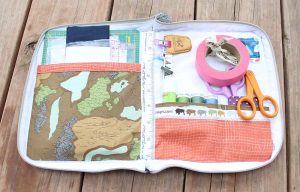 So I made a pouch that fit my needs. This is the 3rd iteration, and like Goldilocks, it's just right. There is a foam pad inside to give it stability on my lap as we travel. I wanted the zippered edges to stand up like a tray.  It needed a pouch to hold blocks to be sewn….a little magnetic spot for my scissors. I'm quite content with how it has turned out.  I have this travel sewing bag with me almost all the time. It fits perfectly in my purse.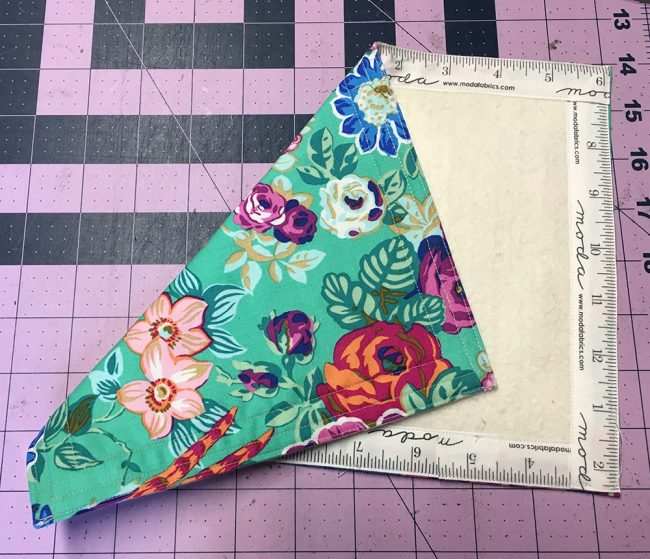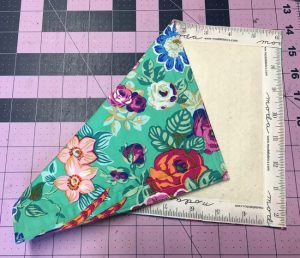 If you are English paper piecing, you'll benefit from some sort of a design board. This is one I designed; it fits inside the travel sewing bag.
Here are the things I love for English and foundation paper piecing.  For the products on Amazon, I have linked to the sellers I've purchased from, and had great experiences with.  I purchase on Amazon, because even though I live in a large city…there isn't a quilt shop nearby.  Plus, if you are on the road, you can have Amazon items shipped right to the hotel or the campground! Note: these are affiliate links.  I earn a few pennies if you purchase using these links.  But these are the actual items I have and use.  I'm not recommending something I don't already love and use.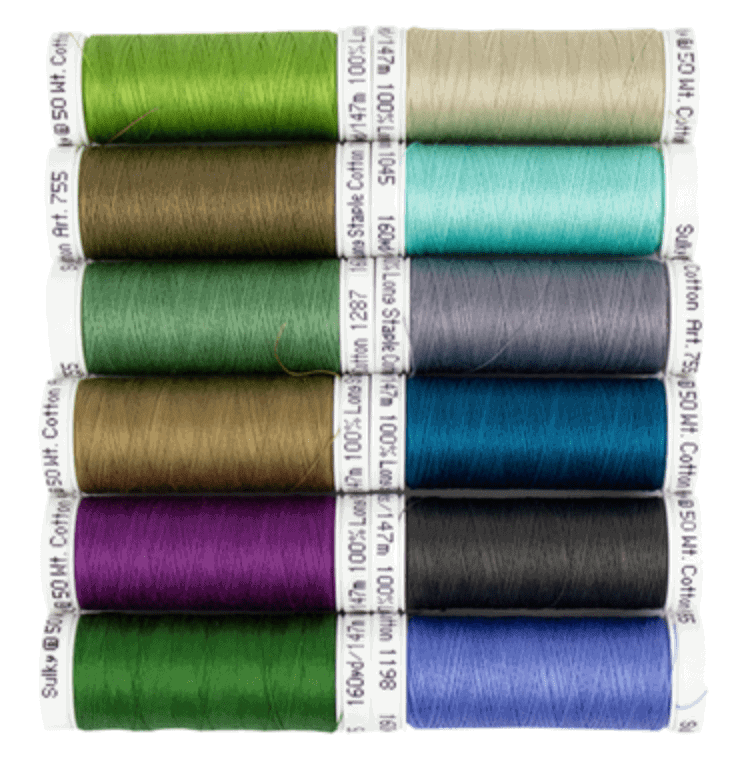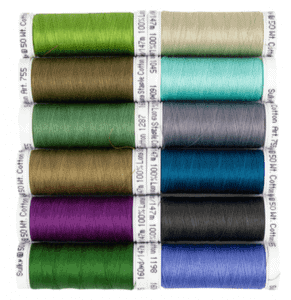 Thread. I'm a thread snob. I didn't know there was such a thing. Turns out there is. I love 50 wt thread because it blends into the fabric. With foundation paper piecing, it does not create additional bulk with the seams, with English paper piecing it doesn't knot as easily. I've tried a few brands, and my absolute favorite is Sulky. The thread strands are longer, which helps it not to knot as easily as other brands. The longer strands also mean that it won't break as easily mid sewing. If you are an EPPer, you may have experienced this. It also means that you don't need a thread conditioner (also an EPP thing). It's just a superior thread.
You might think, "Oh my machine isn't picky. I can use whatever, it's not that big of a deal." I used to think the same thing. I wanted to save my precious 50 wt thread for top stitching…but after comparing any ol thread and 50 wt thread, the difference was incredible!! My blocks were flatter, and seams weren't bunchy.
I have worked with Sulky to curate a thread collection that works BEAUTIFULLY with my National Parks patterns! You don't need to guess which thread colors you need.
I adore these needles for EPP!!!
Before these, I used Dritz/Clover milliner needles, and they would BREAK  so easily! And the eye was so small that I couldn't thread the needle easily.  FRUSTRATING!
With these needles, I have never broken one (they bend over time, but have never snapped), and the eye is round and much easier to thread.
EPP: I met with these folks at Creativation, and they said that the needles are designed to bend and not break. You can also use size 11 quilting needles if the eye is too small for you with these milliner needles – the quilting needles are a bit longer.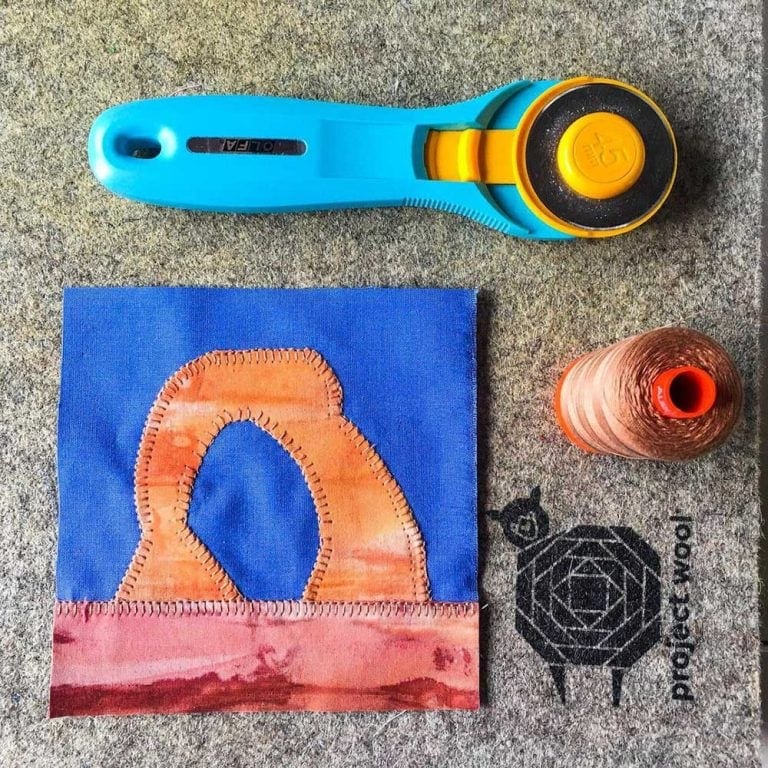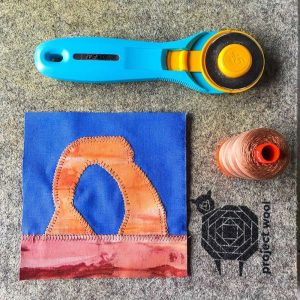 Wool pressing mat. This is a larger item, but stores flat, and you definitely need it: a pressing mat.  Recently, I have learned quite a bit about pressing mats.  Did you know that you don't want a 100% wool pressing mat?!  I didn't know that!!! This one is a blend, and is premium quality, sold at a really affordable price, and I loooooooooooove it.
My seams are FLAT FLAT. This is great for EPP and FPP. For FPP, when you press templates open, when the pieces press flatter, they have less tendency to shift, which means less frustrations when joining template pieces together!
For both EPP and FPP, the flatter the block can be, the more accurate the block is, and fewer issues joining blocks together.
This pressing mat can take a beating too! I was sent another mat for review prior to getting the Project Wool pressing mat. The other mat was so inferior that I couldn't leave a review. I learned that most pressing mats are made of industrial wool, not at all made for quilters and crafters. The industrial wool has a gritty texture, and the Project Wool mat has a nice feel.
The inferior mat has layers that were glued together, and if you wiggle that mat between your hands, you can FEEL the layers. The Project Wool mat is solid.
The inferior mat also scorched my iron. It didn't have special instructions, but you definitely couldn't use high heat on it. The Project Wool pressing mat has no issues. I use steam, high heat, and starch. In return it gives me the flattest blocks! My iron has never been scorched!  I was very concerned after my first experience with the inferior mat, but I have had no issues!
.
Glue sticks:  I have lots of opinions about this.  In good conscience, I can only link products I truly love and use.  Amazon does not have glue sticks that I'd recommend.  There may be some, but they are in a bundle of 5 million (slight exaggeration).
What I look for:
1. Cheap (I stock up at Office whatever they are now, during the school sales in July/beginning of August).  I purchase the max number I'm allotted, and I'm set for the year.
Even when these aren't on sale, they are very affordable!!
2. Washable. The glue HAS to be washable! But I think all glue intended for kids is washable..
3. CLEAR!  I can't speak for fancy EPP glue (I use so much, it's not practical for me to buy a fancy glue pen), but the Elmer's purple glue that dries clear burns fabric when it is pressed! UGH! NO thanks!!
There is no need to spend lots of $$ here.  All the glue needs to do is hold the fabric to the paper. Cheap does the trick! Save your money for fabric! 😀
Mostly EPP: You will want 2 pairs of scissors: one for cutting your paper templates (ahem from Fiona Sandwich), and one for cutting thread.  And any ol' small pair of scissors will work for paper.
EPP: I like this light for piecing in the trailer.  I like that the sides bend, and it loops around my neck, so I don't have to lug a flashlight when walking the dog at night, around the campground.
This light is really neat that there are 3 levels of brightness on BOTH sides.
EPP & Binding: These clips are so handy! I don't know what I did before I heard of them!  Many quilters use them for holding binding on quilts, but the little clips are ideal for English paper piecing! I have at least 3 in my sewing pouch, at any given time!.
BOTH: For the National Park pattern, this 5″ ruler is insanely handy to trim up blocks.  I wasn't sure if I'd like it, because it's SO bright…but I really do! The outside of the yellow line shows 1/4″ seam, so even if my stitching is off, I can make my block look the best!
My ruler came with 3M grips, which are essential to make sure your ruler doesn't slide around when you are trimming your block down.
I love that this ruler is SO affordable too!
BOTH: I didn't know that I would ACTUALLY use this as much as I do. Before I had this, I was fumbling with holding FPP pieces up to a light or a window…then a friend texted me that the BrightPad was on sale on Amazon!  Yahoo!!!
It has been a game changer – both for FPP AND for EPP.  For English paper piecing, I can place the fabric on the paper template EXACTLY where I need it.
For FPP, I use this to line up my first piece of fabric EXACTLY where it needs to go.  This also means that I can measure just what I need, and I less fabric waste.
In all honesty, this is one of my top MUST HAVE items!
EPP: This is really handy for travel. I glue baste on this, and use it for holding my tape! I like to reuse my tape as much as possible, and this mat is perfect for it!  Aaaaaand it fits in the travel sewing bag 😉
EPP: I couldn't find a link to purchase this tape, but this is my favorite for taping together EPP templates. I have tried painters tape and frog tape, but this is the absolute best. I found it at my Baby Lock dealer.
BOTH: In the Quilt Along Group, we have discussed several times which rotary blades to get. I have tried expensive ones, and cheap ones. I prefer cheap, because they dull at the same rate. This isn't a place I splurge on quality, because I haven't noticed a difference.

BOTH: I have 2 of these, and love them! It is REALLY easy to change out the blade, and the handle is pretty ergonomic.
BOTH: These are a MUST if you use a rotary cutter. It is far too easy to cut yourself, because the rulers slip! These grip the ruler, and there isn't any shifting
BOTH: This is a splurge item, but I use it ALL THE TIME. You'll see it in my videos. The black and white markings make it so easy to see where you need to line up, or cut. My only complaint is that these are not 5″. THAT would be ideal! 😀
BOTH: I don't have much of an opinion for cutting mats, but this is what I have, just in a different color. It's a pretty versatile size, and they store flat.
Copy Paper
BOTH: I use cheap copy paper for both EPP and FPP. With EPP, you want to be able to fold over the templates in some areas.
There you have it: my must haves!  Do you have any that I missed?  I'd love to hear!  Please leave a comment below and let me know!