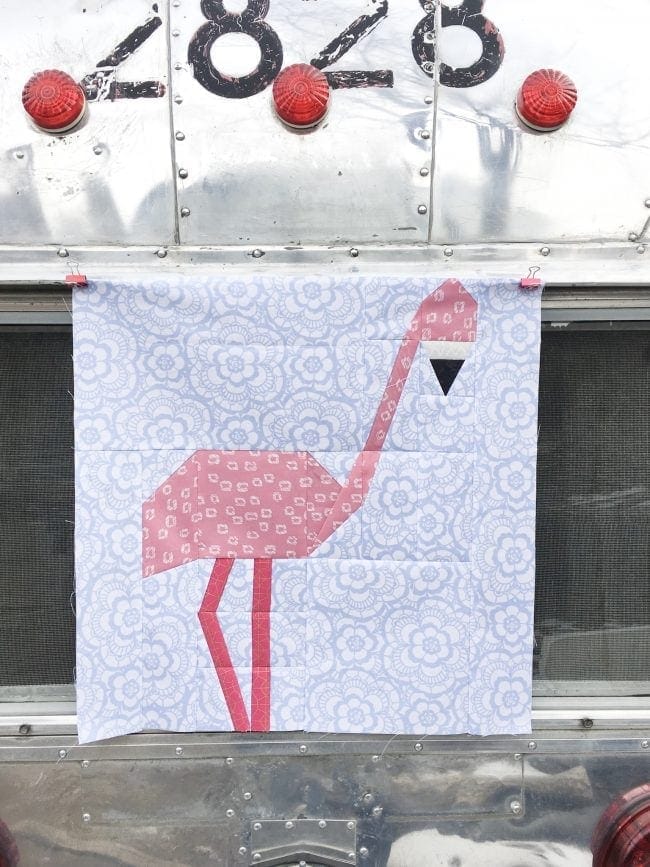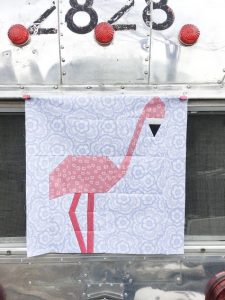 Welcome to week 1 of the Airstream Quilt Along!!  I'm really thrilled that you are joining me, quilting your own Airstream quilt!  I cannot wait to see the colors you choose to use and how it all looks in your trailer (if you have one!!)
This week we're starting with Gloria Flamingo – we are flamingo lovers, my daughter and I….I actually love most things kitschy…gnomes included!!  My daughter named her turquoise stuffed animal "Gloria".  Gloria went with us camping last year.  She loves going to National Parks with her Airstream and earning Junior Ranger badges 😉
If you are new to Foundation Paper Piecing.  I posted my tutorial inside the Quilt Along group (you need to be in the group to watch.  Even if you are not quilting along on this quilt, you are welcome to join). There are 2.
Part 1 – Disregard the last few minutes where I quickly realized that I had grabbed the wrong paper pieces.  Ugh, real life, folks! Your pieces are correct in your pattern. 😀
Part 2 – Putting the units together.  It came to an unfortunate, abrupt end…but all the important information is there.
Trimming your blocks.
(If you want to speed up the video, this chrome extension may work well for you!)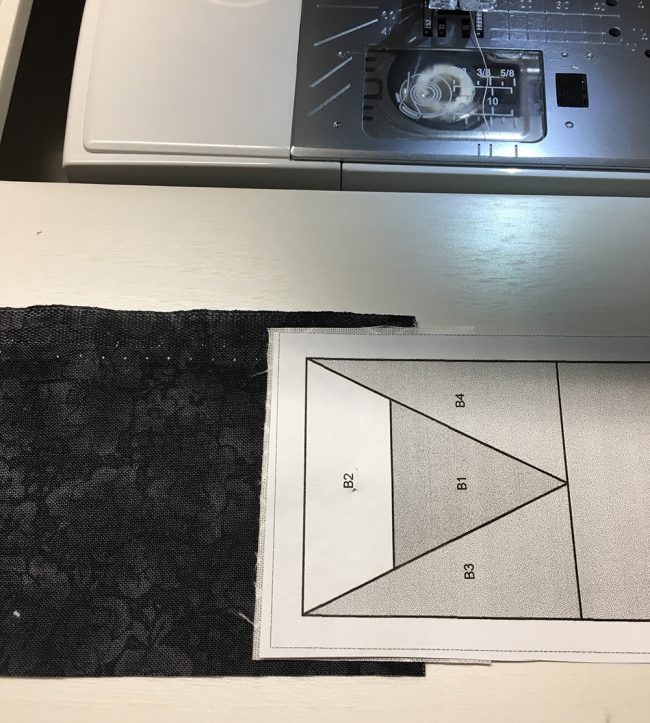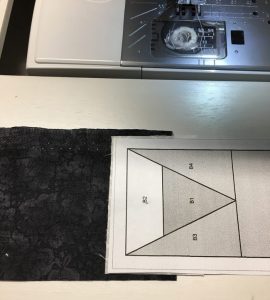 Here is a helpful tip. If you always place the new piece of fabric that is to be stitched in the SAME direction, every time, you will have less frogging moments.  It happens to me still (see part 2!!) from time to time. I have found that if I have the seam on the top, and the new fabric hanging below, that I mis-sew pieces less.  Sometimes I still misjudge the size of fabric, and need to remove a piece.
Then the next thing I try to do is sew with the seam on the right side of the foot.  I leave my needle in the middle of the foot, and follow the solid black line.  But the bulk of the fabric is on the side opposite of the machine's throat.  Similar to setting up your trailer at a new campsite, if you follow the same method every time, you are less likely to make mistakes.
If you are short on time, and didn't watch the videos (they are long, I understand!!), I talked about the importance of not trimming every FPP (foundation paper piece) EXACTLY to the template size, before you are done with the block.  When I was working on my Farmer's Wife quilt, I realized that the paper causes bulk, which causes things to shift, which means that if everything is cut exactly BEFORE HAND, your finished block may be too small.
By trimming the pieces to the right size, on the sides that will be sewn to another FPP (by contrast, leaving the exterior pieces of the blocks wider/longer than the template), this will allow for the final block to have plenty of room to be trimmed to the size you need.
Sometimes using a walking foot helps eliminate this shifting, but I have found that leaving extra fabric is the least stressful of the two options.
As I was looking for some additional inspiration to share with you, I came across these pictures.  I hope you enjoy them, and they give some ideas for your own Gloria Flamingos!!
I have some map fabric that I'm going to see how it turns out with a flamingo…
This would look great with a batik fabric background…
Remember to post your progress to the group and/or Instagram with #AirstreamQAL !! I can't wait to see your progress this week.