Look at all the possibilities you have with ONE pattern! You are only limited if you want to be!
FAQ's
Are these patterns beginner friendly? Yes! Both methods are beginner friendly! If you can sew, you can use either method. Start with the National Park Sign if you have never paper pieced before.
Can I get printed copies? At this time, I only offer PDF patterns.  They can easily be printed from any home computer, or you can send them to your local Kinkos/print at the library.
What tools and materials do I need? Regular copy paper – whatever is in your printer right now, a glue stick, thread, a needle (for either machine or regular sewing needle), a quilting ruler (but not fancy ones), rotary cutter, and fabric – you don't need a new fabric stash either – use what you have!
Where are the video tutorials? They are posted on my YouTube channel.
Which method is easier? Both are simple. I have a method for FPP that makes it easier than how most people teach. EPP has a shorter learning curve, because the templates can be folded and manipulated, and there is one stitch.  There are smaller pieces in my patterns than normal with EPP, but again, I have easy 'hacks' to make these a breeze. I have a short attention span; if I get frustrated easily with a pattern, or pieces, it never makes it to print 🙂
FPP uses a machine. The learning curve isn't hard. I haven't lost a student yet, so I'm confident that you'll be successful!
All you need to do is decide which method you prefer!
What is your cancelation policy? You may cancel at anytime! If you wish to cancel, you may do so from inside your Fiona Sandwich account.
How long is the subscription? This a 12 month subscription.
How long do these blocks take to finish!?! They look really complicated!  I get it!!! These patterns only LOOK complicated. You will be amazed at how quickly they go together. I understand that you don't have time to sit and sew aaaaallllll day! Even in if you have 15 minutes in a day, you can make a LOT of progress on a block, and soon you'll have a stack of blocks to make into a quilt top. Each month you'll get 3 patterns – that is one per week. Or you can choose to collect them until you have more time in your schedule.
I don't like paper piecing, do you have other options? My patterns are only EPP and FPP. I have found that most tutorials don't tell the why, or what happens, or how to troubleshoot! I'll admit that my tutorial videos are longer than most, but it is by design. The videos provided with this replay club are STEP BY STEP. That means that you can sit with me in your sewing room or dining room table, and I will walk you how to choose fabric…how to sew each individual piece together, and if I make a mistake, I haven't edited it out to perfection…I've left it in there so you can learn. If you don't have time to finish a block during the video tutorial, it's ok! Pause it, come back, and we'll continue to piece together.
The majority of the tutorials use FPP (using a machine) because EPP (by hand) would be a MUCH longer video in real time. ;P 😉 The learning curve for EPP is generally shorter.
Plus – can you imagine cutting tiny pieces of fabric if these WEREN'T paper pieced?! THAT would be daunting!!!
Why EPP or FPP? I wanted you to have a washable heirloom quilt that you could sleep beneath. You could use fusible webbing (choose the EPP patterns then) and iron the pieces together, but it wouldn't last as long, or be washable.
Both methods are incredibly accurate. The seams are built into the pattern, and the paper stabilizes the fabric so there is no shifting. They are both frustration free methods, once you learn the basics.
I haven't been to all these sites, I'd rather pick my own patterns. or I only want to sew specific sites. I have designed all the patterns to be versatile. If you 'see' something else in the pattern, run with it! I encourage creativity and thinking outside the box! I encourage you to think beyond the title, and even visit other sites in the National Park System that are not a "National Park". These patterns are curated to allow you to tell your travel story – past, and future travels – what did you see? or not see…what did you experience, or what do you hope to experience? This also doesn't have to be a never ending project! Determine the size quilt you want to make, then when you are done with that you can make another if you wish! It is such a treasure to check off a site I haven't been to, but it's in my quilt!! I have a mixture of places I have been, and places I want to visit. (Also, the non National Parks are not as crowded generally!! 😉 )
If you still only want certain sites in your quilt, you may purchase them individually.
I'm not a quilter, is this for me? YES! Sewing is sewing. Just watch my tutorials and I'll tell you everything you need! If you don't have a sewing machine, then English paper piecing is for you. It's a relaxing method, and I promise, it's not like regular hand piecing – THAT can be brutal!!
Do I need lots of new fabric?? Only if you want to. But I'm confident that you have fabric in your stash that will work. If not, I will teach you exactly what you need to be successful.
I need some more inspiration. Join our Quilt Along group! You can search for what colors and fabrics others have chosen!! This group is SO encouraging. Your new NP bffs are waiting for you to join! Join a community of like-minded ladies who share your love of the National Parks, fostering new friendships and meaningful connections.
I'm not very creative, is this for me? ABSOLUTELY!! I will teach you everything you need!! Your creativity will grow as you sew. If you get stuck, I'm an email away 🙂
Why animals?! I just want to sew National Parks. The animals and activities are designed to enhance your quilt story. Did you see moose in Yellowstone, or were you 'skunked'? You don't have to put them in your quilt, but they are darn cute, and probably a large part of your adventures!
What happens if I don't like the method I chose? Simple; send us an email, and we'll switch you to the other method.
Learn English or Foundation Paper Piece!
This is a GREAT method to take with you on the road, or while waiting at kids' activities, or while watching TV! The patterns and fabric don't take up much space at all!
This is a great method if you want to sew with your sewing machine! The instructions and videos will help you with each step.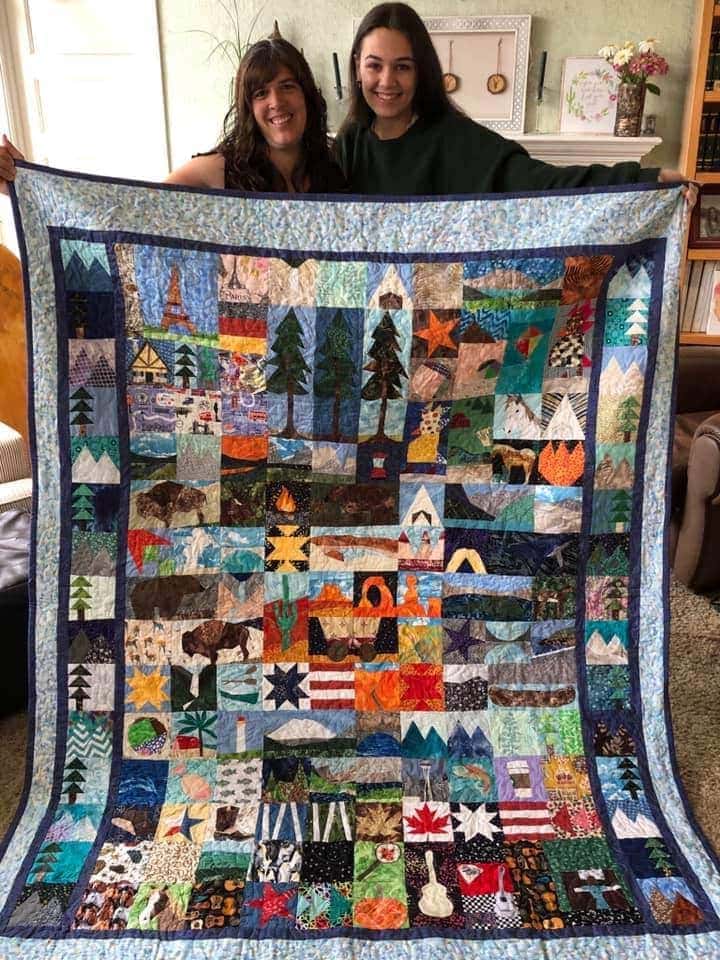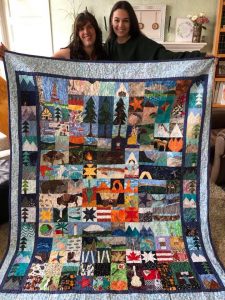 Hannah hadn't sewn in 15 years, and never quilted before. She is a teacher, and her sewing time is limited. Look at the memory filled graduation gift she made her daughter!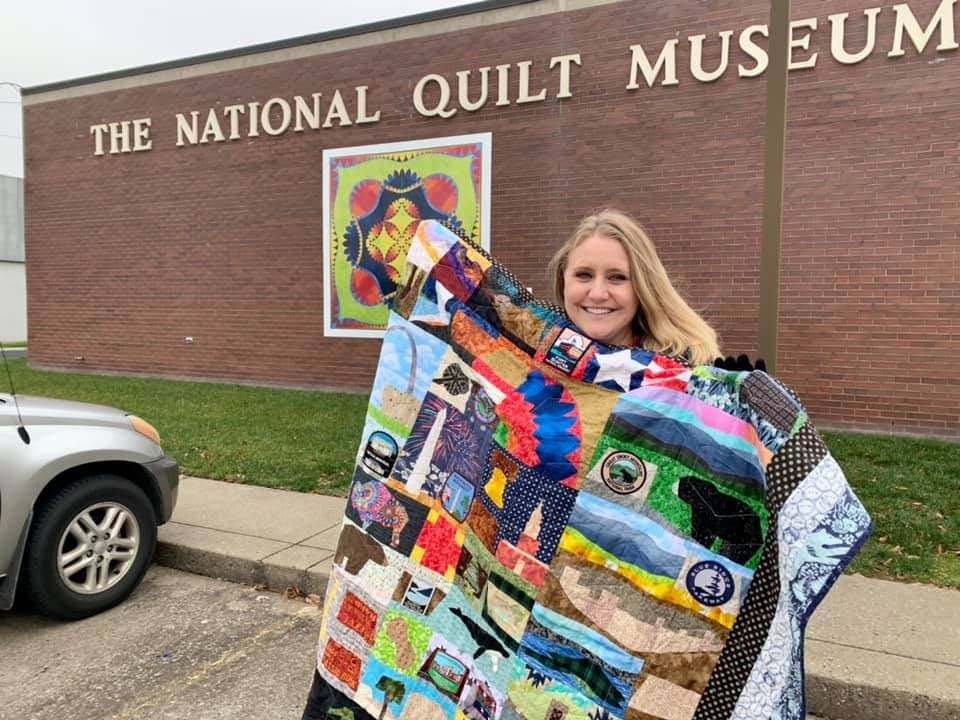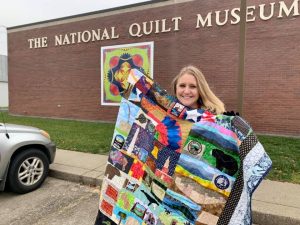 When Lori saw the ad, she had no idea where her sewing machine was! She started this quilt in 2020 when fabric stores were closed…and she has made 3 quilts now!! This top was made entirely by English paper piecing.
Blocks fit together perfectly!

Each pattern has been designed to fit together, regardless of size. No need to figure out sashing, or how to make it all work together – they all fit!