Patterns that allow you to "paint" with fabric
Express your inner artist through textiles…even if you don't consider yourself an artist! Fiona Sandwich patterns are a beginner friendly approach to art quilts, and a great way to show off your travels!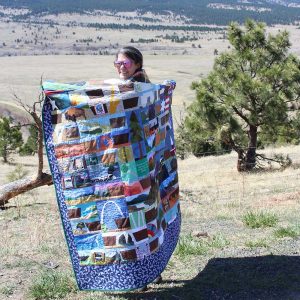 Seen and Heard On

Hi There!
I believe that EVERY person is wildly creative…and we are conditioned to believe that we aren't.  My hope is that these patterns draw out your inner artist! By exploring color and shape, you can easily create a functional piece of art!!
Every pattern will give you instant gratification; they are printable from any home printer.  I've designed every pattern to fit on 8.5″ x 11″ paper.
You won't need additional acrylic templates for the English paper piecing patterns – just the printable papers!
Even if the finished block is larger than a US letter size, there are guides to show you where to glue the pieces together!
In addition to printable English paper piecing, foundation paper piecing, and traditional piecing patterns, you'll discover printable doll houses for 9″ mini dolls. Special little kids in your life can color the rooms as they please, and design play spaces for their dolls.  They'll learn space planning, and engineering through play!  The BEST type of learning comes through PLAY!

My secret is out!  Now you know that my real name is Rachael 😉
One time, my husband and I were watching a documentary, and I thought I heard the host's name was "Fiona Sandwich"… "That's a GREAT name!" (Turns out, Sandwich was not her last name) When it came time to name my patterns, the name "Fiona Sandwich" popped in my head!  Fun and whimsical!  🙂 🙂
Like so many artists, my inspiration comes from things around me.  My family and I love traveling in our vintage Airstream.  We are National Park lovers, which has been the inspiration and basis for the National Park patterns.
When we renovated our Airstream, it needed many patches, and rather than riveting a plain ol' circle, I cut out some feminine Moroccan inspired shapes.  That same shape is in my first quilt pattern: Casablanca.
It brings me SO MUCH delight seeing how you make my patterns your own!  Please do tag me in your photos; I can't wait to see your creations!