Unlock your creativity with treasured memories from your favorite adventures!  The National Park Block Library allows you to express your passion for our national treasures with illustrated quilting.
Do you remember the first National Park that took your breath away?  Or the one where you found yourself? Did you experience a sudden snow storm? Did you witness the most amazing sunset?  Or the one that you saw something you never expected?  Recreate that memory, or create the perfect picture with your own National Park quilt.  Whether you have been there, or the sites are on your bucket list, you'll be inspired to explore more, and make more memories…and cherish the ones you've had, with the people you love.
This pattern is beginner friendly! There are many quilters who have never foundation or English paper pieced, and they are having BEAUTIFUL successes.
Tailor the blocks to resemble different aspects of parks.  Sample block ideas to stimulate your creativity: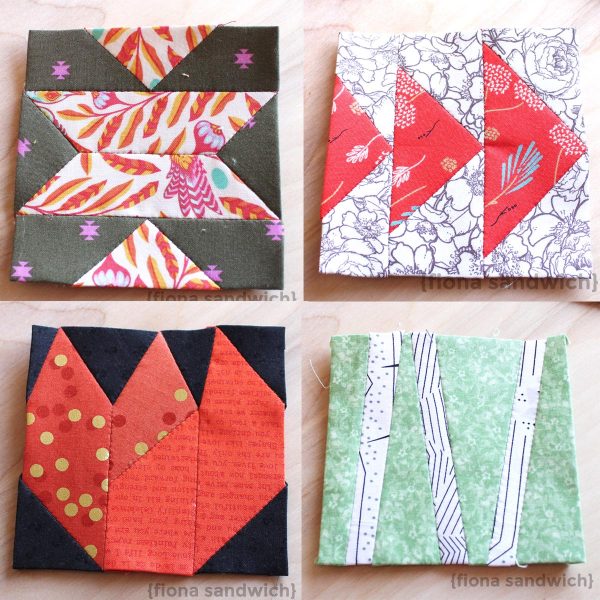 Aspen trees for Parks like Yellowstone, Acadia, Rocky Mountain National, Grand Teton…
Squash Blossom or Teepee to honor the Native Americans.  Parks like Mesa Verde, Capital Reef, Chaco Canyon…
A campfire for your favorite place to have a campfire…or pair it with a star for Paul Revere's home, or the Statue of Liberty.
A cactus for Saguaro NP (yes, this isn't a saguaro cactus…), Death Valley, Mesa Verde….
A teepee for parks with nomadic Native Americans, like Bents Old Fort, Mount Rushmore, Sand Creek Massacre…
54-40 block for James Polk Birth home, parks along the Oregon Trail…
A Star for Dark Sky Parks, or for coastal parks with sea stars, like Olympic, Alcatraz, even state parks (no need to limit yourself!!)…or patriotic parks like Mount Rushmore, Betsy Ross house (this ought to be a park!)…
Ohio Star for parks like Homestead, Parks along the Oregon Trail…to resemble the sun
A cannon for the 48 battlefield or fort sites….
A covered wagon for 17 sites along the Oregon, Santa Fe, Mormon, or California Trails…One quilter used a covered wagon to represent her family's stay in Capitol Reef, where they glamped in a covered wagon!
A canoe for the 32 US sites with canoeing or kayaking, like Voyageurs, Yellowstone, and Grand Teton..
A Lighthouse for the 29 US sites with lighthouses.
Pine Trees for parks like Acadia, Rocky Mountain National, Glacier, Banff, Grand Teton, Olympic..
A bear for any of the 142 sites with bears
Dinosaur Footprints for the 200+ sites with fossils
Park specific blocks in this library include:
Old Faithful
Artist Point at Grand Canyon of the Yellowstone
Roosevelt Arch
Big Bend/Black Canyon of the Gunnison
Arches
Devils Tower
Mormon Row at Grand Teton
Kaloko-Honokohau
White House
Black Canyon of the Gunnison
Dinosaur National Monument
Modern Cross – shown for Mesa Verde
Airstream
Washington Monument
Kenai Fjords
Fish – for Alaskan parks, or parks where you went fishing!
Top left, and bottom right are Yosemite
Middle is Capitol Reef
Great Sand Dunes bottom middle
Golden Spike
Aspen Leaf
Lincoln Memorial
Maple Leaf
Dinosaur footprints
Sequoia
Yellowstone River
Denali
Performance parks
Thors Hammer in Bryce Canyon
Airstream (shown again)
Great Smoky Mountains
Frequently Asked Questions:
What is the difference between English and Foundation paper piecing?  Traditionally English paper piecing (EPP) has been with geometric shapes like hexagons and diamonds, and foundation paper piecing has allowed for illustrated patterns. At one point in my quilting journey, I discovered that I could use foundation paper piecing (FPP) templates for EPP. Eureka! Then I discovered curved EPP…paired with FPP illustrative ability, this pattern is very innovative.
English paper piecing is an old technique where fabric is wrapped around a piece of paper, and glue or thread basted to the piece of paper, and pieces are hand sewn together. If you've never tried this technique, don't write it off.  I had written it off as well!  I hate hand piecing! The seams get wonky, and it never looks right. I never thought I would enjoy EPP, and I do! It's completely different from FPP. The paper stabilizes the fabric, so there isn't bunching and shifting.
Foundation paper piecing has gotten a bad wrap by people who haven't had good luck with it, or a poor experience.  I'm an impatient sewer.  I have a hard time with 1/4″ seams.  So sewing along a line makes my life so much easier.  I have videos to show you how to FPP, and how easy it is.  FPP uses a sewing machine, and EPP uses a needle and tread.
I have had gals who have NEVER EPP or FPP'd in their life, and have had amazing results – not even beginners luck.
I have some gals who are using the EPP pattern with appliqué!! The possibilities are endless!!
Do you have a printed paper pattern available? Because this pattern library has monthly additions, in order to keep costs low, this purchase is only delivered in PDF.
I don't have a printer, but I want the NP Block Library… You can print it at the library or send it to a print shop.
What kind of paper do I use? I use cheap copy paper for both EPP and FPP. No need to use card stock or expensive FPP paper!
I haven't been to that many sites, maybe this isn't the right pattern for me. That's ok! Make a bucket list quilt with the places you want to go! Then "mark them off" with an embroidered patch!  You can use this pattern with state parks, or scouting events.  You could even make pillows from just your favorite sites!
I don't collect patches, any ideas for the sign blocks?  You can embroider on them (by hand or machine). You could write on them with a fabric pen…you could even use vinyl and a vinyl cutting machine!  No need to be limited here 🙂