Fiona's Foolproof FPP Formula
You REALLY CAN make a cozy (and washable) National Park travel quilt with your memories and milestones..and I'm here to help you!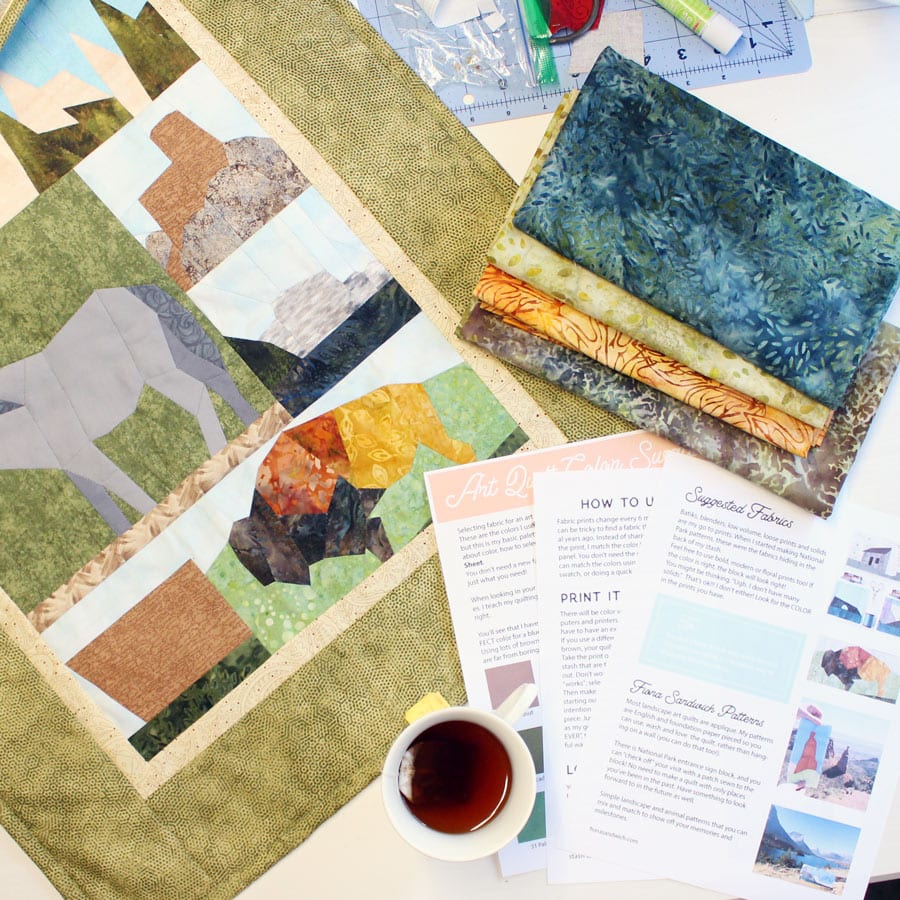 FPP get's a bad wrap because it hasn't been taught well
I was frustrated trying to learn foundation paper piecing. I'd cut off what I just sewed…or I didn't have enough fabric to cover the section…or the fabric went the wrong way. It was confusing, frustrating and annoying. I wasted so much time and fabric. I finally unlocked the "code", and discovered secrets that are not taught. I have developed a simple, foolproof method that takes all the frustration out of paper piecing, and makes it incredibly rewarding and easy! It will become your favorite method as well!
You don't have to sit on the quilting sidelines thinking that a special skill has passed you by. This is a method that ANYONE can learn, and have incredible results! You can wow your friends and family with stunning blocks.
Download my free handbook and discover the formula for yourself! 💖
Here are some reviews of my methods and patterns. These results are typical. In 2020, when the world was shut down, I taught hundreds upon hundreds of ladies how to paper piece. I can't wait for you to also start piecing your memories and milestones into a cozy quilt!
FPP's Warning: the patterns are so good they are addictive 😉 – Clare
I got this thinking it would be a stretch to do three every month (I'm new to FPP), but I have found these so fun that I can't stop. I've come back and purchased more patterns because I'm loving this so much. – Wendy
I was nervous to try FPP but learning it was sooo easy. There was practically no learning curve at all. I started by buying just one pattern to try but it went so well that I immediately bought this bundle so I can commemorate all my travels. – Kelly
I just love these patterns! I had never quilted before and I found the patterns easy to use. Rachael has made wonderful videos to help the beginners! I have completed 18 blocks and I can hardly wait to get the new ones every month in the monthly subscription. – Andrea
Addictive! I am a beginner, but instructions were easy to follow and videos helped. Fun to choose from your scraps and be creative. Can finish a pattern in an hour or two and admire your result. – Gail
I am pretty new to sewing, only just picked it up a few months ago. I was worried I wouldn't be able to do these patterns as i have never paper pieces before but I really love the National parks and wanted to give it a try. The video tutorials are fantastic and after watching a couple I felt confident enough to jump in. The results are fantastic even from a beginner like me and I have already completed 12 park blocks in 2 weeks. You won't be disappointed with this pattern subscription or any of the other Park patterns available for purchase. – Brittany
This was a very easy, self explanatory pattern. Rachael does an excellent job of creating the FPP & explaining. – Rebecca
I did the Redwood Tree sew along from last night. My first FPP and with Rachael's help I got the hang of it and finished it. I think it turned out great, I do see I need to make improvements on my sewing. Otherwise I like learning this new technique that I'll be sewing up more of Rachael's NP blocks. #nationalparkquilt – Deanna
I love how flexible these patterns are. You can really play with different fabrics to achieve the look of favorite spots & memories. The support, both here on the Fiona Sandwich site, and on facebook has been incredible. The videos have helped this newbie FPPer get started, and Rachael is very responsive to questions. Highly recommend!! – Carol
These are awesome designs. Easy ones for those just starting FPP, to more advanced as your skills improve. I have really enjoyed putting these blocks together, finding fun fabrics to use, and letting some hidden creativity loose. What a fun project, whether a few as a pillow, more as a wall hanging, or lots as a quilt. – Maureen
This pattern series was my I initiation into foundation piecing. The patterns are so detailed and easy to work with! The online support and suggestions should encourage any quilter to give it a try! – Barbara
This has been such a fun introduction to paper piecing! I'm really enjoying learning and experimenting with the patterns and fabrics. Additions to the full pattern are added monthly, and Rachael /Fiona is very prompt about answering questions and providing help. Get the pattern and join the Fiona Sandwich Quilt Along facebook group!! I'm glad I did. – Carol
Love it! Easy to follow, even the tiny pieces work out perfectly. Loving gathering the fabrics that are just right. Each block is a nice quick project, looking forward to more additions. – Beth
My first ever foundation paper piecing. Though I had pieced quilt blocks before, I hesitated on this type of piecing thinking it would be difficult to learn. No so! This was an easy block to learn FPP. I love the way the pattern is laid out and goes together. The pieces are relatively large & not fussy, giving a rewarding sense of accomplishment! What a fun quilt this will be when I eventually have enough blocks. – Mary