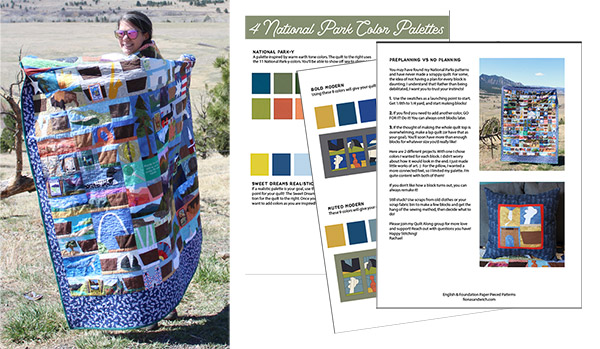 Sew your adventures with Fiona Sandwich's National Park Patterns.
Make a personalized souvenir with all your travels in one place! This free fabric guide shows you how to choose fabrics with ease for your National Park quilt. I have found that the one thing that holds many quilters and sewers back from using my patterns is they don't know how to select fabrics that go well together….then they feel frustrated, and the quilt seems unattainable. This fabric guide has 2 swatches: basic (to help you get started) and the colors I use most (there are fewer than you think).
You'll also find tips to get started, and some of my favorite brands that will help your travel quilt pop!
I've taught thousands of quilters and sewers (just like you!) to make a National Park quilt. I can't wait to see what you create! 💖 – Rachael